Biocare Group corporate rebrand + website & UX/UI transformation
ClientBiocare Group
CountryMalta
Year2022
The brief.
Biocare Group has made premium international health and cosmetic brands accessible to Maltese market since 1992. The collective of companies invests in protecting the value of brands they serve to import; through marketing, logistics and education. This commitment and accountability to quality needed to also be reflected in their own brand identity. After 30 years in operation, a refresh was needed to effectively communicate their offerings, solidified reputation, company culture for excellence and positioning of brands they represent and distribute. It was also strategically vital for growth and greater capacity for engaging with their desired target audiences.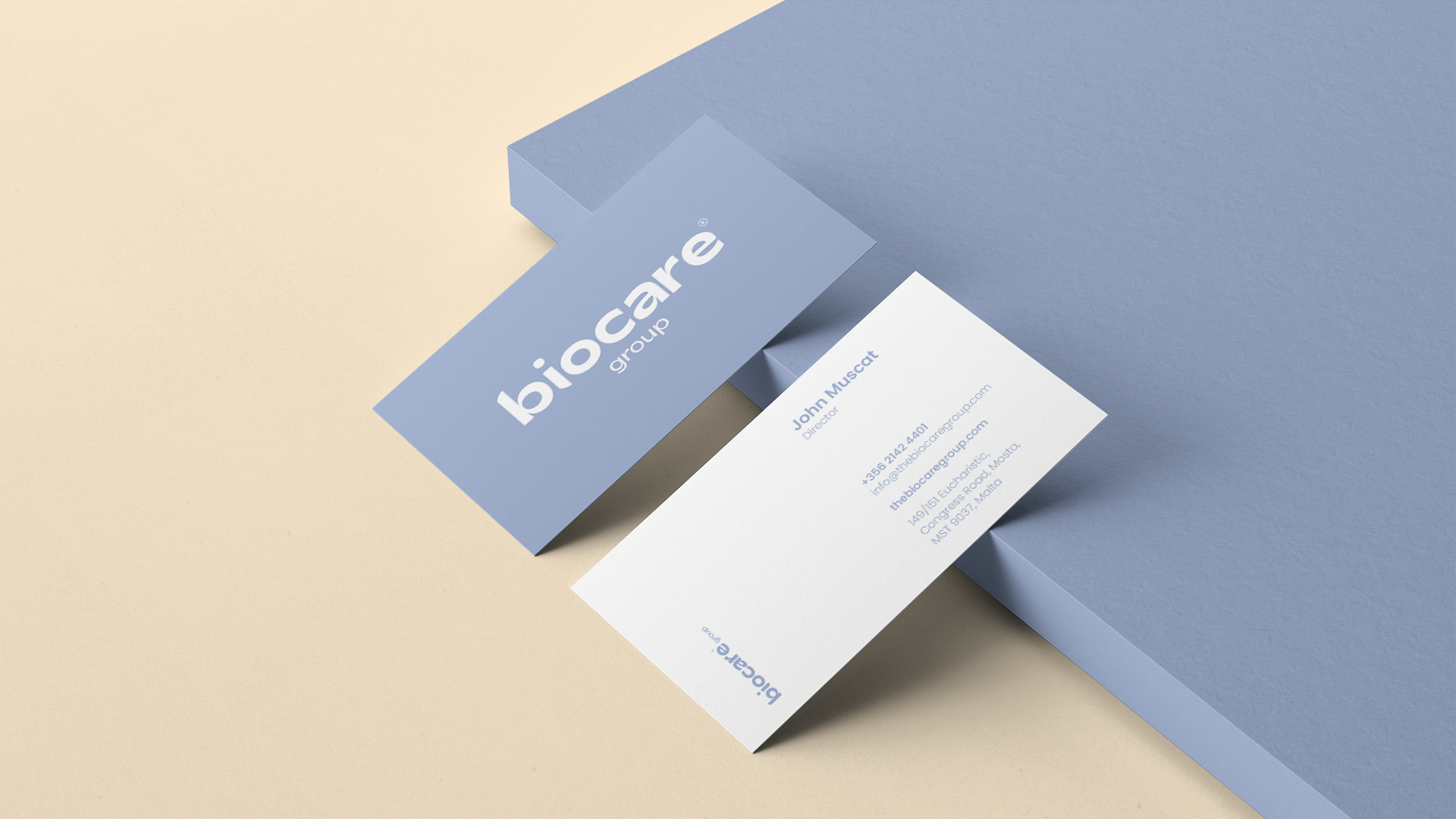 The approach.
We created a brand core with the fluidity to represent the group of companies, and align with their audience, with a composition of clients from a broad range of sectors (beauty and hair salons, pharmacies, clinics, hospitals, nail technicians, make up artists).

This encompassed a total rebrand with a completely new logo, design, website and marketing collateral. We conducted market research into competitors both locally and internationally, and the clients and brands the group represents, to formulate a robust understanding of the structure that was needed for their operations to move most effectively within, removing any limitations and maximising reach. We selected a colour palette of soothing, muted pastel tones that identify with the skin, beauty, makeup and health related products Biocare imports and distributes. The logo was redesigned with professional, calm, premium but grounded curvature and connotations.

The new website structure is integrated with UX/UI design that focuses on simplistic efficiency. The appealing new brand colours were complemented with no-fuss design with exceptional navigation journey. Potential and existing clients can now easily access key information, in a clean, consistent format.

We created marketing collateral (including stationery, social communications, signage design, vehicle livery, et.) so that all presence and digital assets aligned, to ensure professional, consistent brand perception. An extremely important factor to maximise trust and perception of capability when interacting with current and potential, international brand partners, and seeking to modernise.
Impact.
Biocare Group now has the tools to stand steadfast in a modern market, with an exponentially greater ability to break into new audiences. The branding identity and brand architecture now matches the expertise of operations and history and reputation of the brand, allowing for a professional presence and new streams of engagement through a robust online and offline representation.
"From our first meeting, it was evident that Steves&Co. understood our requirements and the commercial goals of our company. We were very pleased with the new group rebranding and we quickly had our fully functioning website built to spec. Any changes to the site have been quickly implemented, without any issues."