Caffe Cordina rebranding and retail interior design.
ClientCaffe Cordina
CountryMalta
Year2015
The brief.
In 2015 our agency was hired to rebrand the Maltese Icon, Caffe Cordina. The brand lacked consistency and did not have a unique brand icon or architecture. Steves&Co. was engaged to create a consistent identity that leveraged and communicated the brand's reputation.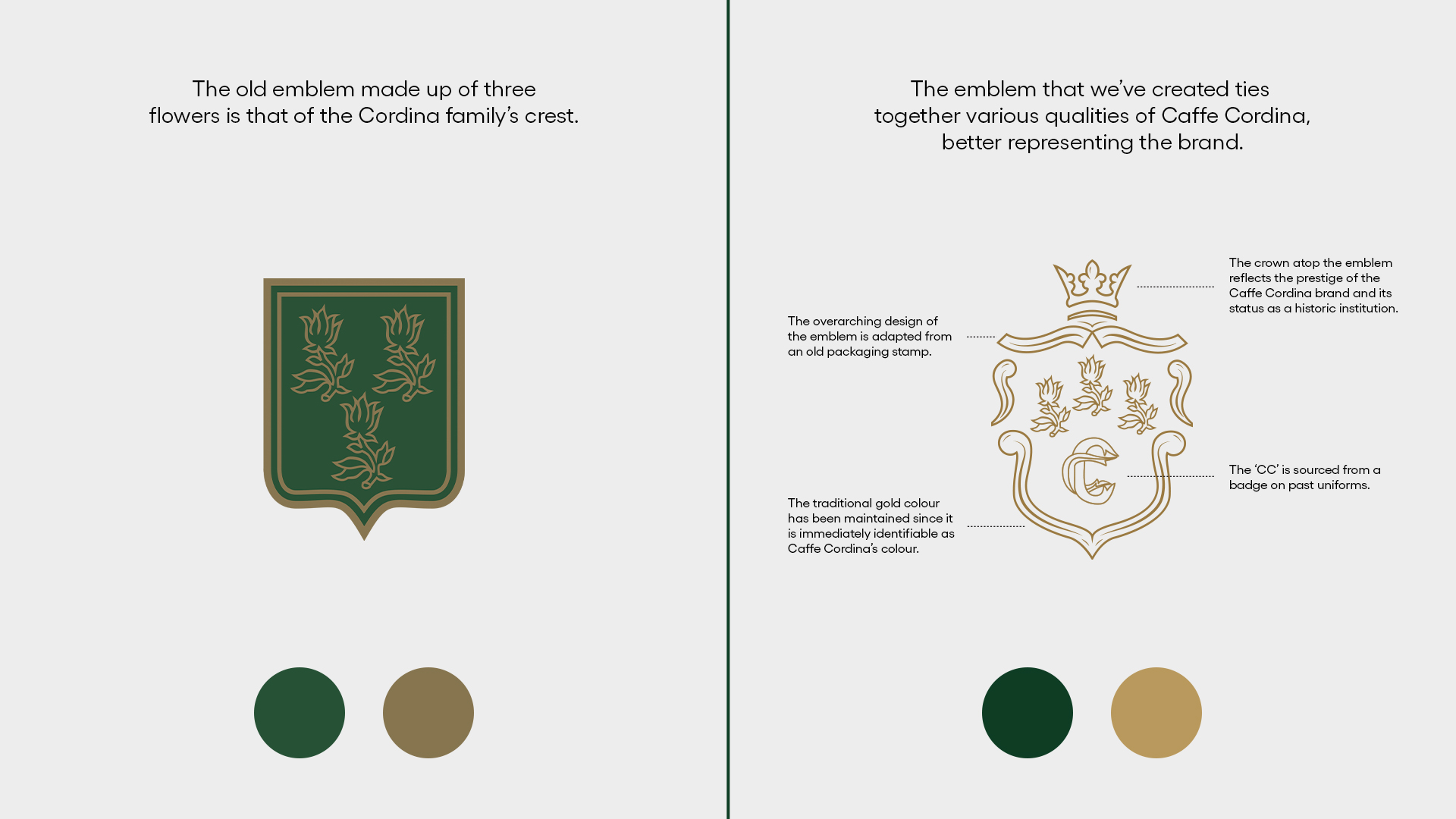 Our approach.
To build upon the heritage of the brand and elevate its position in the market, we undertook considerable research into the brand and its history. Caffe Cordina is a national institution, being Malta's oldest cafeteria in the heart of the UNESCO capital city, Valletta. Incorporating the heritage, ethos and brand story into every consumer touchpoint from the new logo design, menus, uniforms, customer service and experience as well as a comprehensive packaging design and product architecture across 85 packaging items. The iconic Caffe Cordina symbol of the three tulips is not just tied to the company, but originates from the Cordina family crest. Therefore, it was imperative to treat the mark with utmost respect and care. We carefully crafted a new brand logo that not only incorporates the family but also celebrates the story and heritage, shaping a new crest logo with other tied symbols which works as both a digital symbol and a business mark.
Impact.
Launched in March 2018, the retail store has been an instant success. We have developed an experiential retail environment which improves the in-store retail experience and driving conversion, with an average sales uplift of 21%. The re-design of packaging led to an increase across product sales with some products increasing by triple-digit growth. Following a successful rebrand, S&Co. redesigned all product lines, online shopping experience, the iconic cafeteria's outdoor Piazza in Valletta, and retail outlets at DUFRY, Malta International Airport. This growth also led to a request from The Valletta Cruiseport to also have a Caffe Cordina shop-in-shop, which opened in September 2018. A new online shopping experience is set to launch in 2021.