Granelli Caffè and Pasticceria: Crafting an Authentic Café Concept for Maypole
ClientGranelli
CountryMalta
Year2022
The brief.
Maypole, a renowned Maltese bakery with a century-long legacy, sought to diversify its business and enter the cafeteria market by leveraging its manufacturing capabilities. To create an upmarket and premium café experience, Maypole enlisted the expertise of Steves&Co.

This case study showcases Steves&Co.'s approach in developing the Granelli Caffè and Pasticceria brand, including its positioning, naming, brand identity, and interior design, to establish a distinct and successful cafeteria concept within the Maypole group.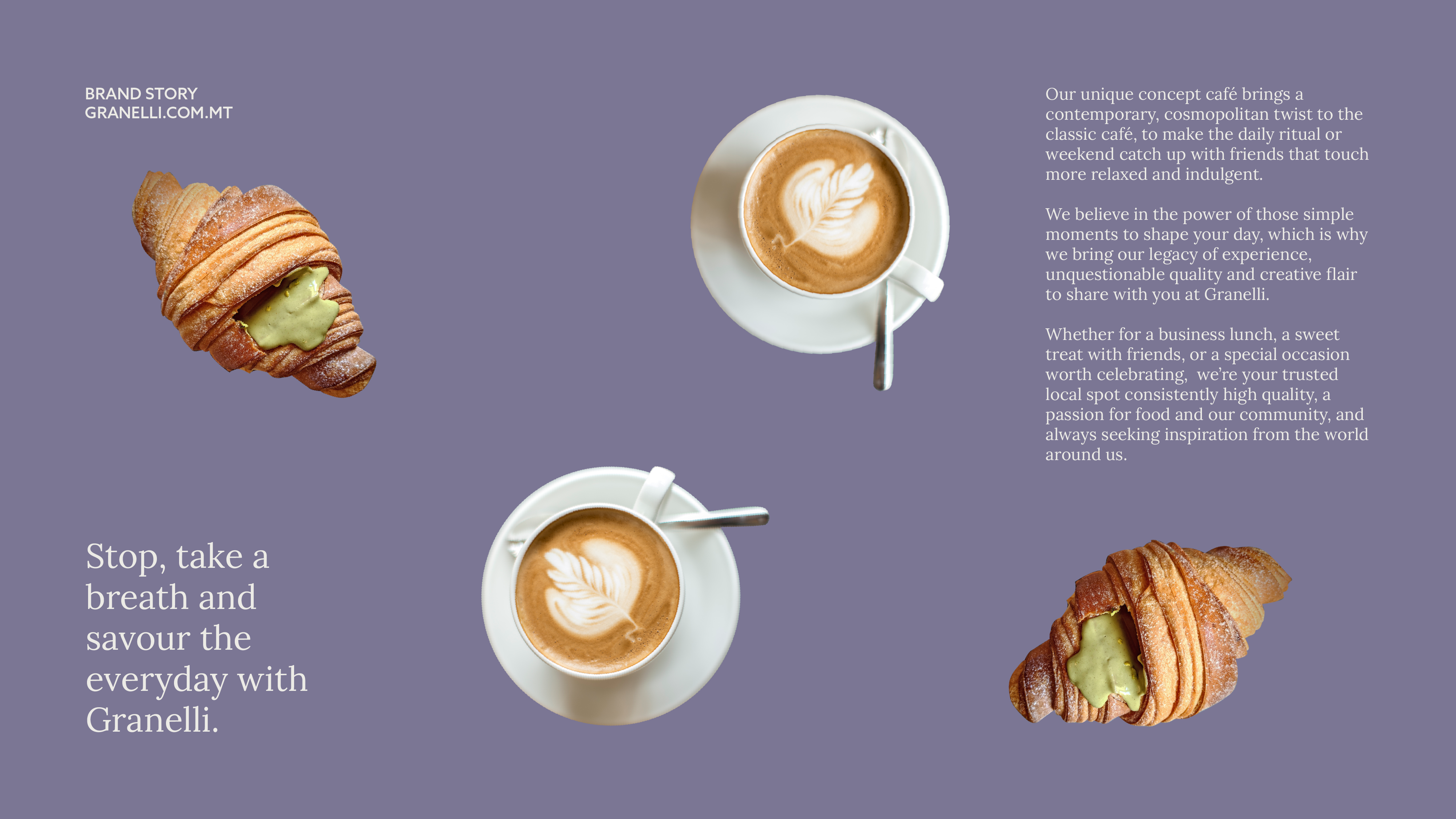 Our approach.
Over the course of several months, we conducted in-depth research into the new brand's positioning and identity, the cafeteria market landscape, and target audience analysis. Recognizing Maypole's expertise in the creation of high-quality products and its powerful manufacturing capabilities, Steves&Co. focused on leveraging these unique selling points. This research provided the foundation for creating a brand positioning that showcased Granelli as a unique and upmarket cafeteria concept.

Steves&Co. devised the name "Granelli" for the new cafeteria brand, deriving it from the Italian word "grano," meaning little grains. This name cleverly symbolises the diverse range of grains used in creating both savoury and sweet delicacies. With its short, easy-to-pronounce, and memorable name, Granelli was positioned as an authentic café experience.

The logo, a blend of traditional and contemporary elements, pays homage to Italian heritage and art-deco signage style with custom curves that makes it highly recognizable.The visual brand identity captures Granelli's essence, combining values such as quality, passion, heritage, and innovation. Steves&Co. created a brand pattern, inspired by granular particles, or "granelli," which was applied to packaging and collateral, providing a unique and standout visual communication. The brand's primary colour palette, featuring a dominant lavender colour complemented by creamy white and luxurious gold, conveys elegance and refinement.

Our approach to brand creation always looks to create a total brand experience. Steves&Co. translated the Granelli brand identity into the café interiors, meticulously considering the customer journey and the need to create a cohesive brand experience. The design of the café interiors reflected Granelli's character, paying great attention to every detail. From the selection of materials to the curvatures of design elements, all adding a touch of sophistication to the space, reminiscent of the logo itself. Ultimately, ensuring that customers feel immersed in the Granelli experience.
Impact.
Granelli successfully opened its first cafeteria doors in Rabat, quickly becoming a favourite spot for both locals and tourists seeking an authentic café experience while exploring the towns of Mdina and Rabat. Additionally, Granelli recently unveiled its flagship store in Valletta, which has gained popularity among those seeking quick lunches and after-work drinks in the capital city. This successful expansion into the cafeteria market has allowed Maypole to tap into a new audience and market segment, while establishing Granelli as a distinctive café concept.