Mondo restaurant naming, concept & brand creation + marketing and communications
ClientMondo
CountryMalta
Year2022
The brief.
Malta is proud of their colourful, rich dining scene, and rightly so. Locals and expats are privy to premium and creative restaurant concepts from passionate flagbearers of the hospitality industry; culinary devotees who are motivated and willing to push boundaries to deliver exceptional standards of their respective cuisines and specialisations.

This being acknowledged, the Mondo proposal was set to revolutionise the market and current offerings.

The notably successful operators of Greens supermarket (fittingly renowned for the quality and variety of their produce), were ready to execute their vision for a first of its kind restobar. Reminiscent of innovative dining hot-spots, found only in international metropolitan cities, such as Dubai and London. The entry point was medium to upper, with a staggering number of exotic cuisines (and number of menu items) from all around the world.

The emphasis on quality and pushing boundaries was paired with a determination to provide a genuinely unique experience – guests can be transported to wherever they wish, accessing the best of the best, all in one location, at the Quad.

Steves&Co. needed to make sure this bold endeavour was equipped with branding that was a) strong enough to carry the intrepid concept and launch it into the market with the propulsion needed, and b) create an identity and voice for the brand that adequately propped up the unique profile.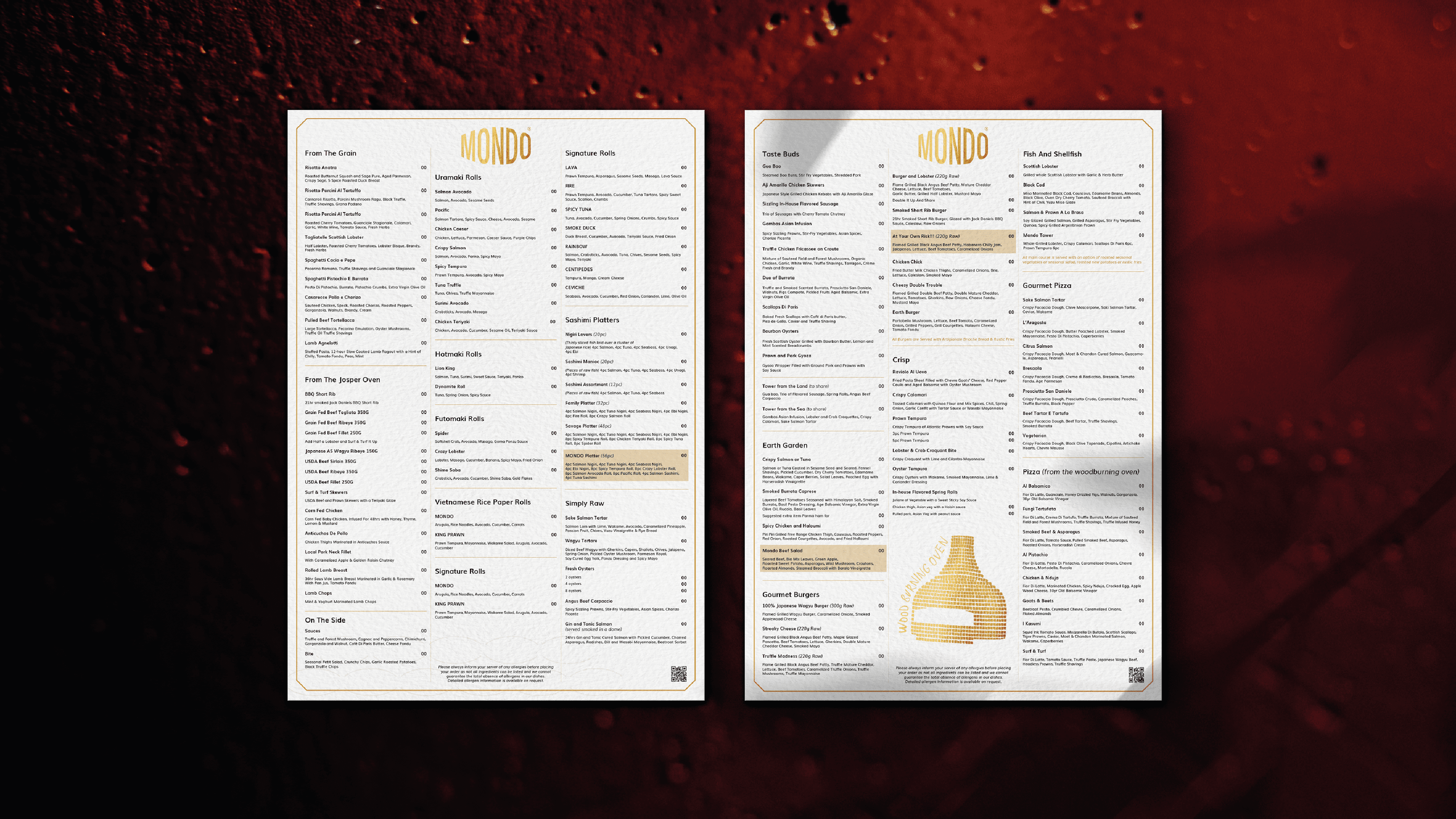 Our approach.
We always build a restaurant's motivations for existing into every element of a brand concept and design. We start here – with the soul, then continue to mould and create structure for the identity, aligning desired trajectories and unique offerings.

We formulated a name and aesthetic that was direct and not limiting or misleading. The name is both old-worldly and phonetically pleasing and edgy, resonating immediately linguistically. The logo is ultra-modern and contemporary.

This was then translated into a totally new website, social media and marketing material, branding collateral, including menu design, signage, uniforms – and even digital screens and uniform sticker design for their robot wait staff (yes – you read that correctly).
Impact.
Steves&Co. levelled with the brief and designed a comprehensive marketing strategy, with sufficient reach and depth, to generate the hype and anticipation the venture deserved.

Mondo opened their doors to the buzzing public and were met with an overwhelming response that 'the hype is real!' After celebrating a successful launch, we continue to build the brand and capitalise on early leverage through social media, to ensure the hype is consistent and continues evolving into a strong, anchored name in the industry.