When approached to create this year's campaign, it was immediately clear to the team at Steves&Co. to address a reality that would tie in Franks' Heritage with the present day. Working together for five consecutive years created a strong client-agency relationship and a deeper understanding of the brand.
Steves&Co. decided to further build on 'Celebrating Heritage' as the resonant core message leading up to the brand's 125th anniversary next year. The 2017-2018 campaign aimed to celebrate positivity, individuality and personal style in all its wonderful diversity. It challenged ideals and perceptions of beauty by embracing uniqueness, personality and expression.
FRANKS has been at the forefront of the beauty industry for many generations and recognizes that beauty has no age. "Our challenge" said Emily Micallef, Marketing Accounts Executive, from Steves&Co. "is to create a campaign that grabs the consumer's attention and stands out amongst the noise of a competitive market". This year's campaign communicated the brand appeal to women of all ages; both young and old. It's simplicity yet use of a stylistic 'hero image' was what ultimately drove the message home.
As part of its campaign, FRANKS released a mini-documentary celebrating the dominant theme of ageless beauty. Conceived by Steves&Co and directed together with the FRANKS team, it served as a celebration of experience over age. It was also an appreciation of the new generation challenging the unachievable standards of beauty we come face to face with every single day.
Featured in the video is Gladys Wirth, age 91, the face of the new campaign. A former telephone operator during the second world war, Gladys is a stylish and vibrant woman who redefines social constructs of beauty. She shows off her bold and fun character during the behind the scenes short where she shares with the viewer what age and style mean to her. Gladys is a breath of fresh air; a woman of substance who radiates self-love and self-acceptance.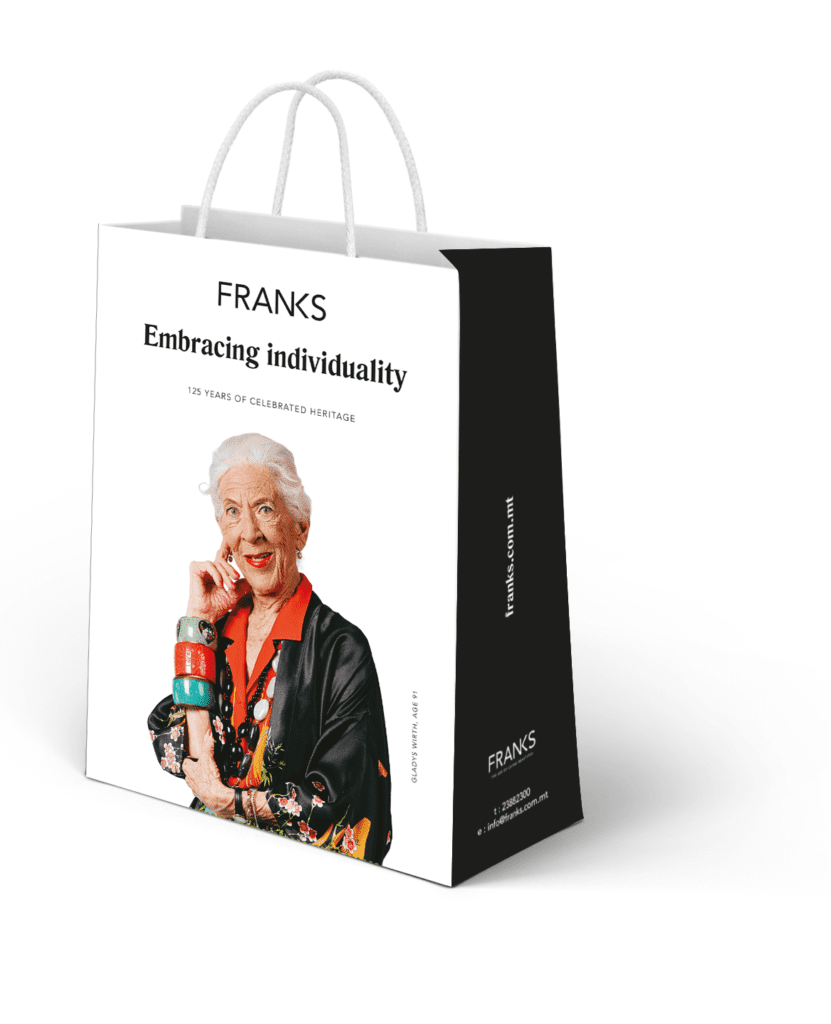 This year, the muse and inspiration behind the campaign were of a more 'mature' kind. Why? Because beauty standards are changing. "Ageless individual beauty is a value FRANKS holds very dear" said Louise Galea, Marketing Manager at FRANKS. "This theme of ageless beauty," she continued "merged with the concept of 'embracing individuality'. It perfectly encompasses where we feel the company is at as well as where we envision it to be in the coming years." The idea was to move away from the obsession of age and unrealistic ideals constantly portrayed by the media by showing how in reality, someone mature can be just as bold and youthful.